Description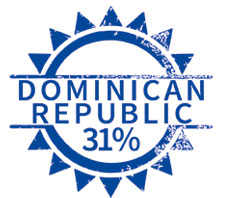 Dominican Republic White 31%
Sanchez Cocoa Beans
A divine white chocolate distinguished by its delicate creamy flavour notes. The light taste of butter and milk, and the suggestion of flowers and dried figs. The Dominican Republic is the largest producer of cocoa beans in the Caribbean.
Create a creamy and indulgent hot chocolate experience from flakes of real single origin white chocolate, made from Sanchez cocoa beans from the Dominican Republic.
Simply stir four heaped dessert spoons or eight teaspoons (40g) into a mug of hot milk. Enough for six mugs.
Ingredients
Sugar, cocoa butter, whole milk powder, natural vanilla flavouring.
Cocoa solids: 31% minimum.
Milk solids: 30% minimum.
May contain traces of soya lecithin.
Nutritional Information
per 100g
Energy
2421kJ/584kcal
Fat
39.4g
of which – saturates
24.1g
Carbohydrate
49.5g
of which – sugars
49.5g
Protein
7.6
Salt
0.28g