Description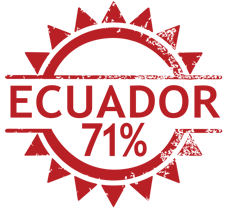 Ecuador Dark 71%
Nacional Cocoa Beans
The exceptional fine flavour and rich aroma of Ecuador's native "Cacao Nacional" is the main characteristic of this dark chocolate. It is highly prized for its floral flavour. High cocoa content delivers a surprisingly gentle flavour distinguished by soft and subtle aromas. There is a floral hint, and a nuance of earthiness provides the finishing touch.
Create a punchy and indulgent hot chocolate experience from flakes of real single origin dark chocolate, made from Nacional cocoa beans from Ecuador.
Simply stir four heaped dessert spoons or eight teaspoons (40g) into a mug of hot milk. Enough for six mugs.
Ingredients
Cocoa mass, sugar, cocoa butter, natural vanilla flavouring.
Cocoa solids: 71% minimum.
May contain traces of milk.
Nutritional Information
per 100g
Energy
2374kJ/573kcal
Fat
41.2g
of which – saturates
26.1g
Carbohydrate
33.4g
of which – sugars
28.6g
Protein
7.4g
Salt
0.0g