Description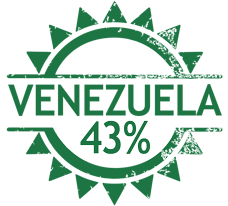 Venezuela Milk 43%
A mix of Criollo and Trinitario Beans
A richer milk chocolate with the distinctive accent of hazelnut, caramel and vanilla. Combines a strong cocoa flavour, the impression of roasted beans and a clear nutty taste. The result is an exceptional milk chocolate; creamy, rich and delicious. Criollo beans are native to Venezuela and are renowned for producing chocolate with richer more intense flavours.
Create a rich, smooth and indulgent hot chocolate experience from our flakes of real single origin milk chocolate, made from Criollo and Trinitario cocoa beans from Venezuela. Simply stir four heaped dessert spoons or eight teaspoons (40g) into a mug of hot milk. Enough for six mugs.
Ingredients
Sugar, cocoa butter, cocoa mass, whole milk powder, natural vanilla flavouring.
Cocoa solids: 43% minimum.
Milk solids: 19% minimum.
Nutritional Information
per 100g
Energy
2407kJ/579kcal
Fat
40.3g
of which – saturates
24.5g
Carbohydrate
45.1g
of which – sugars
43.5g
Protein
7.3g
Salt
0.18g